YOU'LL NEVER HAVE TASTED SALADS LIKE THIS BEFORE!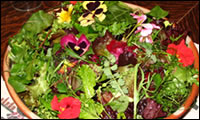 We specialize in pre-mixed gourmet salads, combining dozens of ingredients - herbs, great greens, specialty lettuce, and of course, edible flowers.
Who Knew? – The head gardener of King James II thought that there should be at least 35 different ingredients in a salad! Our salads have that and more: making them interesting in taste and texture, colourful, and incredibly good for you! (don't tell the kids!).
Currently we sell an "Inspired Herb Salad" and a "Spicy Herb Salad", both available in two sizes. People tell us all the time "that was the best tasting salad I have ever had".
Individual gourmet greens are also available, by bag or by weight. In addition to a dozen different varieties of lettuce we have such tasty greens as: Arugula, Mache, Mizuna, Mustard greens, Purslane, Spinach, Salad Burnet, and again, so much more…Click on 'The Greens' to find all about them.
THE NEXT BATCH OF INSPIRED HERB SALADS WILL BE AVAILABLE JUNE 2006.
WATCH THIS SPACE FOR SPECIFIC DATES!