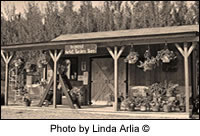 In our store you will find many edible and personal herbal products, including edible flower jellies and syrups and other yummy treats, herbal and medicinal teas, prepared herb mixes condiments and dips, intoxicating scents in pot pourris and sprays, healing herbal oils & creams, gardening accessories, beautiful cards and napkins, stunning artist's calendars, and books – on gardening, cooking, nature, animals, and of course everything about herbs.
The store has an 'upside-down' garden with many dried plants & flowers - you can choose your own combination.
We feature lovely lavender - with many products including linen sprays, culinary lavender, lavender teas, lavender sachets, lavender dryer bags (imagine!), and gift sets.
A great place for a unique personal treat, or beautiful all-natural, Canadian-made gifts. All of the above are lovely on their own, or we can package them up in a gift basket for you.
All our edible and personal products only contain natural or organic ingredients.
95% of all of the items in our store are made in Canada, many right here in Alberta.
Be welcome - The coffee and lemonade are always on & free!