AMARANTH – Amaranthus hypochondriacus, caudatus, tricolor
Heirloom; Often dubbed a 'superfood'. Colourful leaves of rich red, yellow and green add an explosion of color to your dishes. The young greens are a delicious addition to salads, with a flavour similar to spinach. The larger leaves are healthful and delicious when steamed, sautéed or used in soups. Mature seed heads will yield protein-packed seeds with a rich nutty taste, used on their own, or ground as grain for a non-gluten flour. Amaranth seeds are about 16% protein compared to 10% for most grains, and the protein has a balanced amino acid profile especially high in lysine. Combining amaranth with other grains complements their protein and boosts their nutritional value. The seeds contain calcium, iron, phosphorous and fibre. The leaves are high in protein, as well as beta carotene, iron, calcium and fibre. 3 Varieties: Early Splendor, Tri-colour (Joseph's Coat – shown in picture), Vegetable
ANISE-HYSSOP – Agastache foeniculum
Both the flowers and the leaves of this herb have a delicate anise or liquorice flavour. The blossoms make attractive plate garnishes and are often used in Chinese-style dishes.
It also makes a delightful tea...
ARUGULA Flowers – Eruca vesicaria sativa
Delicate & white, slightly nutty taste. The Salad Green has a spicy peppery flavour, a spinach-type green. It is usually appreciated raw in salads or on sandwiches, while the flowers can be used in salad for a light piquant flavour.
BERGAMOT (Bee Balm) – Monarda didyma
A citrusy fragrance reminiscent of lemon and orange. Brilliant blooms in a range of red, pink and purple shades. Blooms and leaves can be added to salads – both regular and fruit salads. Leaves can be harvested for tea, and taste like the main ingredient in Earl Gray Tea. Any place you can use oregano you can use bee balm blossoms.
Also: LEMON BERGAMOT – as above, but with a stronger lemon scent & flavour.
BORAGE Flowers – Borago officinalis
Two types available - White and Blue delicate blooms. Blossoms have a cool, cucumber taste. Wonderful in punches, lemonade, gin and tonics, sorbets, chilled soups, cheese tortes and dips. On hot summer days cool off with iced borage tea, adding honey and lemon juice to taste.
CALENDULA (Pot Marigold) – Calendula officinalis
Heirloom. Featuring a brilliant range of yellow-orange-red coloured blooms. A wonderful edible flower. Flavours range from spicy to bitter, tangy to peppery. The taste resembles saffron, and is often used as a substitute. Sprinkle them on soups, pasta or rice dishes, herb butters, and salads. Petals add a yellow tint and delicate flavour to spreads, scrambled eggs, omelettes, and cheese. Use dried & crumbled Calendula petals in rice, noodles, cream soups, and broths.
BACHELOR'S BUTTONS (Cornflower) – Centaurea cyanus
Delicate, brightly coloured flowers in a wide mix of colours - black, blue, rose, white, lavender and pink, with many bi-colours. . These have a slightly sweet to spicy, clove-like favour. Most commonly used as a garnish. n.b. Only the petals of these composite flowers are edible. (The pollen of composite flowers is highly allergenic and may cause reactions in sensitive individuals).
CHAMOMILE – Chamaemelum nobile, Matricaria recutita & M. chamomilla
The flowers are small and daisy-like and have a sweet, apple-like flavour. White with yellow centres. Excellent for teas, great for the digestive system.
CHIVE Flowers – Allium schoenoprasum
All parts of these plants are edible. Lovely purple round blooms. Use whenever a light oniony flavour and aroma is desired. The blue/purple flowers tend to have a stronger flavour than the leaves & young developing seed heads are even stronger. Separate the florets and enjoy the mild, onion flavour in a variety of dishes, particularly in salads. Leaves can be cooked as flavouring with other vegetables in soups etc.
GARLIC CHIVE BLOSSOMS - Allium tuberosum – White blossoms with a mild garlic flavour.
WILD CLOVER Flowers – Trifolium species
Perfect round white, pink, and purple blooms. Sweet, anise-like flavour; n.b. Raw flowerheads can be difficult to digest.
DAY LILIES – Hemerocallis aurantia
Slightly sweet with a mild vegetable/bean flavour, like sweet lettuce or melon. Their flavour is a combination of asparagus and zucchini. To use in desserts, cut them away from the bitter white base of the flower. Also great to stuff like squash blossoms, and you can dip them in batter & deep-fry as Day-lily tempura. Flowers look beautiful on salad platters or crowning frosting on a cake. Available colours: bright yellow, purple, orange.
DIANTHUS (Carnations, Pinks) – Dianthus barbatus
Dianthus are the miniature member of the carnation family. Flowers occur in small clusters of fragrant 'Sweet William' type flowers, with a clove-like or nutmeg scent, some heavily scented. To use the sweet petals in desserts, cut them away from the bitter white base of the flower. . Petals add colour to salads or aspics. Steep in wine, candy, or use as cake decoration. 7 Varieties: Albus, Bouquet purple, Rainbow Loveliness (heavily clove scented), Fenbow nutmeg (red), Holborns Glory Black, Clove-Pink, Mini Spice Mix;
GERANIUMS, Edible,Scented – Pelargoniums – Hard to Find –
Specifically for gourmet dishes. They come in fragrances from citrus and spice to fruits and flowers, usually in colours of pinks and pastels. Sprinkle them over desserts and in refreshing drinks or freeze in ice cubes. Can also be used in salads and in desserts.
5 Varieties: Old Fashioned Rose, Lime, Coral Austrian (Trailing), Nutmeg, Prince of Orange (pictured). The scent of the leaves (especially LIME) is amazing.
GLADIOLAS – Gladiolus species
Flowers (anthers removed) have a flavour vaguely like lettuce, but make lovely receptacles for sweet or savoury spreads or mousses. Toss individual petals in salads. More than a dozen varieties and colours available including Arabian nights (deep red), Pink & Purple, plus orange, green, blue, yellow etc. as well as black & white.
LAVENDER – Lavandula angustifolia
Wonderful sweet floral flavour with lemon and citrus notes in these purple-pink-blue blooms. Flowers look beautiful and taste great in a glass of champagne, with chocolate cake, or as a garnish for sorbets or ice creams. Lavender also lends itself to savoury dishes from hearty stews to wine-reduced sauces. Diminutive blooms add a lovely scent to custards, flans or sorbets. Varieties available: Lavender Lady, Munstead and Vera.
Also available as certified organic dried lavender buds: chef-ready!
HOLLYHOCKS – Alcea rosea
Blends of colourful pastel and dark shades for a rich look. Flavour is very mild. Varieties in 2005: Indian Spring (Red, Rose, White); Single Black Hollyhock; Queeny Purple;
LEMON VERBENA FLOWER – Aloysia triphylla
Tiny cream-coloured citrus-scented blossoms. Sweet, strongly lemon-flavoured leaves. The leaves and flowers can be steeped as an herb tea, and used to flavour custards, sweet salads, sauces and flans.
MALVA – Malva moschata, m. sylvestris, m. alcea, m. verticullata
An old-fashioned favourite. Young leaves and shoots may be eaten raw in salads or cooked with vegetables. The unripe seed capsules (called 'cheeses'), are delicious in salads. 2 inch cup-shaped blooms. 2 varieties: purple and white.
MARIGOLDS – Tagetes tenuifolia (signata)
Mounds of brilliant scented yellow, tangerine, red flowers. Dainty star-like blooms. Different species of marigolds have a range of flavours from mildly herbal to bitter. All Marigolds are edible, but while African and French Marigolds make gorgeous garnishes, they are too bitter to eat. Pot (Calendula – see above) and Signet Marigolds taste best. These are Signet marigolds. The tiny petals of "Lemon Gem" and "Tangerine Gem" are mild and tasty. Excellent for salads, dips, sauces and custards, in breads and muffins or infused in butter or oil. "The secret of the famous Dutch soups, color and flavor, was the use of the marigold. Mediaeval French and English cooks liked it too." from Flower Cookery by Mary MacNicol
Available Varieties: Lemon Yellow, Tangerine Gem, Lemon Gem
MINT FLOWERS – Mentha species
Tiny usually white flowers, in the flavour of the mint variety; make a delicate addition to desserts and salads...
MUSTARD FLOWERS – Brassica nigra, B sinapsis alba
Tiny flowers with a spicy taste. Young leaves can be steamed, used as an herb, eaten raw, or cooked like spinach. Flowers add a pungent dash of flavour to salads. Seeds may be used whole in curries or pickling, or ground to make mustard. n.b. Some people are highly allergic to mustard; use blossoms with care, they can be bitter. Start with a small amount. Varieties available: Sawtooth, White, Chinese, Red Giant.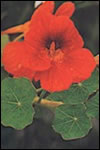 NASTURTIUMS – Tropaeolum majus
Large, semi-double blooms in seven brilliant colors ranging from trailing to upright, with peppery flavours. They rank amoungst the most well-known edible flowers. Blossoms have a sweet, spicy flavour similar to watercress. Stuff whole flowers with savoury mousse. Leaves add pepper flavour to salads, hors d'oeuvres, and to mustard dressings. Pickled seed pods are less expensive substitute for capers. Use entire flowers to garnish platters, salads, cheese tortes, open-faced sandwiches, and savoury appetizers.
Varieties Available: Black Velvet, Cherry Rose, Empress of India, Glorious Gleams, Golden King, Jewel Mix, King Theodore (velvet crimson), Moonlight, Whirlybird Scarlet.
PANSY – Viola x wittrockiana
Delicate, mixed and vibrant individual shades available in large and miniature sizes of blooms. If you eat only the petals, the flavour is extremely mild and slightly minty. If you eat the whole flower, there is a winter, green overtone. The whole flower is useful as a container to stuff with soft cheeses or guacamole and presented on a cracker. The chopped leaves and petals may be used to flavour oils, vinegars, and dressings or to add to butters and soft cheeses. The petals are wonderful used as a garnish, in syrup or candied. Add to fruit salads, green salad, desserts and soups. 6 Varieties and many colours: Yellow, Orange, Raspberry Rose, Light & Dark Blue, Dark Orange with 'whiskers' etc.
POPPIES – Papaver rhoeas
The fascination of these light or dark flowers continues. Use the Poppy Seeds in traditional ways, or use the flowers. Poppy seeds are commonly used in breads, cookies, rolls, cakes, biscuits, and pastries to add texture and a mild, nutty flavour. You can candy poppy flowers by using corn syrup and arabic gum and then sprinkle powdered sugar on top before they have dried.
ROSES – Rosa species
Lots of colours & different types of blooms to choose from, some heavenly scented. If roses smell good, the petals will taste good. All roses are edible, and each variety tastes different, but it is usually the older/ heirloom species that have the most flavour. Use for decoration, with ice-cream or sorbet, or to float in festive punches & finger bowls. Make rose butter or use in salads. Great in vinegars or jellies. Rosehips can be eaten raw and are said to have 400 times more vitamin C than orange juice. Use steeped for a healthful tea, hot or cold.
SAGE FLOWERS – Salvia officinalis
Sage flowers are similar in taste to the leaves but have a subtler flavour with more sweetness. Add them to salads, use as a garnish for cream soups, frittatas or roast venison. Blossoms may be minced and added to soft cheeses or in sweet butter. Flowers are a delicious companion to many foods including beans, corn dishes, sauteed or stuffed mushrooms, or pesto sauce.
SCARLET RUNNER BEANS – Phaseolus coccineus
Beans with blooms in a variety of bright colours. Flowers or beans can be eaten, but as they toughen as they age, the beans are best used young. To some people runner beans are the best type of beans. Blooms taste like the beans with a touch of sweetness, and are crunchy in texture. There is a sweet nectar at the base of each flower so don't remove the base. Use to top soups, in salads, and as a garnish. Enjoy this long season crop in red, white and pink flowered varieties.
SHUNGIKU (Crown Daisy Chrysanthemums, Garland Round Leaf) – Chrysanthemum coronarium
Tangy, slightly bitter taste, from faint peppery to mild cauliflower. Scatter petals on a salad, or use in soups, sauces, poultry, seafood, baked products, and with lamb. Pickle the flower heads or leaves in vinegar, or blanch them and serve with soya for seasoned tofu. Always remove the bitter flower base and use petals only. Edible young leaves are used for flavouring salads, or in chop suey and stir fries. Chrysanthemum flowers can also be served deep-fried in a light tempura batter.
SNAPDRAGONS – Antirrhinum majus
A bright mix of individual large and extra large florets. Sprinkle snapdragons on green salads and fruit salads, or use them as an edible garnish. Delicate garden variety can be bland to bitter. Flavours depend on type, color, and soil conditions. Colours available: Lavender, Red, White, Yellow, Mixed
SQUASH, MARROW, PUMPKIN & ZUCCHINI FLOWERS – Cucurbita pepo species
Yes, you can cook with all of these yellow/orange blooms. Use male flowers (those with the single tubular stamen) which don't bare fruit. Squash and pumpkin blossoms are edible and taste mildly of raw squash; try the zucchini flower, delicious fried or stuffed. All are great stuffed with cheeses, bread crumbs or meat mixtures and then deep-fried. When stuffing, leave the stems on but otherwise remove the stamens and pistils. The blossoms may be sliced and added to a variety of dishes including soufflés, frittatas, scrambled eggs, and burritos. Note: They wilt quickly so pick just before you are going to use them.
TULIP PETALS – Tulipa species
Tulips are a most unexpected flower on a plate, and add an exotic colour. Flavour varies from tulip to tulip, but generally the petals taste like sweet lettuce, fresh baby peas, or a cucumber-like texture and flavor. Remove the stamens and pistil, then serve the tulip whole as a cup or separate the individual petals. Tulip petals may be added to salads and sandwiches. Try stuffing the whole flowers with shrimp or chicken salad, or combine with crab and asparagus for an interesting appetizer. The bulbs could, if you were really in a pinch, be diced and used in spaghetti sauce if you happened to run out of the tulip's more commonly eaten relative: the onion. For dessert, stuff with chocolate mousse, champagne sorbet or lime sherbet. NOTE: Some people have had strong allergic reactions to them. If touching them flower causes a rash, numbness etc. don't eat them, and never eat the bulbs.
SUNFLOWERS – Helianthus annuus
The flower is best eaten in the unopened bud stage when it tastes similar to artichokes, and can be steamed. Once the flower opens, the petals may be used like chrysanthemums, and the flavour is distinctly bittersweet, tasting leafy. Lightly steam petals to lessen bitterness. 14 Varieties available!
VIOLAS (Johnny Jump-Ups) – Viola odorata
Heirloom flower. Lovely yellow, white and purple blooms, which have a mild wintergreen flavour and can be used in salads to decorate cakes, or served with soft cheese. They are also a great addition to drinks, soups, or desserts. Dwarf, bushy plants provide masses of tiny blooms. 6 Varieties available: Bowles Black, Helen Mount (pictured), Velvet Blue Bronze, Orchid Frost, Primrose, Violet Flaire.