ANISE- HYSSOP – Agastache foeniculum
Both the flowers and the leaves of this herb have a delicate anise or liquorice flavour. The blossoms make attractive plate garnishes and are often used in Chinese-style dishes. It also makes a delightful tea.
BASIL – Ocimum basilicum – varieties available:
Cinnamon – Distinctive cinnamon taste and odour; use as regular basil;
Dark Opal – Purplish-bronze foliage; Seasoning & Vinegar;
Genovese – Dark green large savoyed leaves; Heavy spicy taste & smell – Pesto blend;
Green Globe – Dense green ball or globe with fine small fine leaves; Good Spicy flavour;
Magical Michael – Aromatic; Compact, lush green foliage, purple flowers; Great in salads, pestos, garnish
Mammoth – Monstrous leaves; Good flavour & fragrance;
Red Rubin – Large deep purple-black leaves, gentle flavour; Garnish, general purpose.
Spicy Bush - Uniform, dense, globular-bush shape; Leaves are very flavourful and fragrant.
Spicy Globe -Small perfect leaves on a miniature globe-shaped basil 'tree'. Strong spicy scent. Perfect for dishes that need that need that extra burst of flavour.
Sweet -The most widely known and often used basil. Great in tomato, egg and cheese dishes. Also used in sauces, soups and stews.
Sweet Salad – Medium leaf; Excellent for fresh use in salads, pestos, on tomatoes, or added to soups or rice;
Thai – Similar to anise basil, but less licorice-like; used in Thai & Vietnamese cooking;
LEMON BALM – Melissa officinalis
Fresh leaves burst of lemon when squeezed. A truly delightful tea made from the dried leaves is our favourite "anytime" tea as it both stimulates the heart and calms the nerves. Fresh chopped leaves are interesting in salads, soups and stews. Essential in Thai and Vietnamese dishes and an excellent addition to soups, curries, sauces and fish dishes. The uses of lemon balm range from cooking with fish to use as a furniture polish. Use for an insect repellent.
Lemon Balm – Quedlingburger - Taller variety, up to 50-60cm high. Good oil content.
BORAGE – Borago officialis
Known as the 'Herb of Gladness' for its exhilarating effect. A hardy annual with a crisp cucumber flavour; Great in salads. BLUE & WHITE (rare) AVAILABLE.
CARAWAY – Carum carvi
Spicy caraway seeds add European character to all cabbage dishes, including coleslaw and especially sauerkraut. Traditionally used in ryebread, buns and cakes, as well as in soups and stews. Fresh leaves, used as a garnish, add flavour to vegetables. Anti-flatulent.
CATNIP – Nepeta cataria
Although catnip is most widely known for its attraction to cats, it can also be used in salads as a green or for a marvellous relaxing tea. Also: Lemon Catnip.
CHAMOMILE, GERMAN – Matricaria recutita (M.chamomilla)
The most prolific producer of flowers; Chamomile tea is popular in Europe as an aid to digestion, especially after heavy meals;
CHERVIL – Anthriscus cerefolium
One of the most deliciously flavoured of culinary herbs, widely used on the Continent. It has a rich savoury taste of its own often said to resemble that of caraway, which blends well with fish and meat. The leaves can be chopped and used in salads, stews, herb butter, dressings, etc., or used as a garnish in the same way as parsley.
CHIVES – Allium schoenoprasum, Certified Organic Seed
This mild onion flavored herb is also very attractive.
Chives - Garlic Allium tuberosum - Features the same uses as regular chives but the leaves offer a mild garlic flavour and aroma.
CILANTRO/CORIANDER – Coriandrum sativum
A dual purpose annual herb grown for its seeds or fresh young leaves. Leaves (cilantro) have sharp citrus, nutty flavour, used in salads and salsa; finely chop and add to chicken soup to give it a Latin touch
The seeds (coriander) have a citrus flavour and are used as an ingredient in curry powder. The seeds are delicious in cakes and when crushed, add an orangey flavour to meat dishes; or soak the crushed seeds in hot water and add the liquid only to cubes of pork simmering in tomatoes for a real Mexican flavour. Delicious in sandwiches, salads or as a garnish.
Cilantro – Vietnamese – Excellent (stronger) flavour and scent; Trailing habit, yellow-green leaves.
DILL – anethum graveolens
Dill boasts a variety of culinary uses from sauces to pickles; super in salads; Varieties available:
Bouquet Certified Organic Seed – Compact version. Great in fish dishes.
Fernleaf - Beautiful compact growth measuring 12-18 inches in height. Great in Fish dishes and a variety of uses from sauces to pickles.
FENNEL F. – vulgare azoricum
Grown for its stalks and bulbous base which has a crisp licorice flavor. Excellent sliced or chopped and used raw in green salads. Also used in soups and casseroles. Young leaves are excellent in salads. Also – Bronze fennel – Absolutely beautiful bronze – copper – gold & green feather-like leaves; fabulous in salads or with roasted vegetables on the grill/BBQ.
FENUGREEK - Trigonella foenum-graecum
Common ingredient of curry powder. Used in oriental sauces, soups, stews, and for seasoning and preserving butter. Enjoys much commercial use for making imitation maple, vanilla, caramel and butterscotch flavours.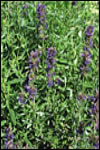 HYSSOP - Hyssopus officinalis
Beautiful blue flowers, very attractive to bees, butterflies and hummingbirds. Young leaves are used in stews, teas and in salads. Helps digestion.
LAVENDER - Lavendula angustifolia
Long a favourite in soaps, perfumes & potpourris, lavender is also wonderful for cooking. Use in salads, dressings, fruit desserts, jellies, and wines. The oil is also used medicinally.
Lady - Features gray-green foliage and fragrant flower spikes that can reach 8" in height. Flowers consistently the first year
Munstead - A dwarf and hardy strain. Compact, green foliage is topped with fragrant spikes of blue flowers.
LEMONGRASS - Cymbopogon citratus
This wonderful lemon-scented grass is a real delicacy. Delightful lemon-scented grass. The tangy enlarged leaf bases are essential in Thai and Vietnamese dishes. Leaves are used to flavour fish, soups, curries and sauces. Also makes a wonderful pleasant tea, consumed hot or cold.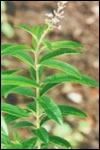 LEMON VERBENA - Aloysia citriodora
This plant's sweet, strongly lemon-flavoured leaves blend well with most other tea herbs. Strongest lemon-scented herb. Leaves enhance all drinks, salads, jellies, sauces, soups, fish or meat dishes and desserts which call for lemon as an ingredient or a garnish.
LOVAGE - Levisticum officinale
Leaves possess excellent flavouring qualities for soups, stews and casseroles. Flavour is reminiscent of celery, and of the famous yeast extract, Maggi. Can replace meat and bone stock in soups. Also gives the character to vegetable, meat and fish dishes. Vigorous tall growing herb.

MARJORAM, Sweet - Origanum majorana
Sweet, mild oregano-like flavour. Use fresh or dried in meats, salads, casseroles and in teas and jellies.
Also - Golden Marjoram – Small golden leaves, milder flavour than ordinary Marjoram.
MINT – Mentha piperita
Leaves used in a variety of recipes, the most popular being jelly. Makes a nice tea, interesting in salads, adds lovely flavour to drinks and desserts. Adds a great fragrance to potpourri.
Apple – Soft grey-green round leaves have an apple-menthol fragrance. Delightful for tea.
Chocolate – Peppermint is overlaid by chocolate that adds up to a 'peppermint patty'.
Ginger – Gold-flecked leaves with a fruity fragrance & light ginger flavour.
Spearmint – Best cooking mint. Excellent with carrots, peas, and potatoes. Make a sauce for lamb.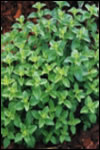 OREGANO – Origanum vulgare
Indispensable in Italian, Spanish and Mexican cooking. Used in a variety of tomato dishes. Good in vinegars.
Standard – As above;
Golden – Beautiful small golden leaves, mild flavour;
Kent Beauty – Gorgeous trailing habit; small leaves but strong aroma and sharp flavour (not as strong as Greek)
Greek - Also known as Winter Marjoram. A compact evergreen oregano with the sweet spiciness of sweet marjoram. Bright green leaves; Preferred by chefs.
PARSLEY – Petroselinum crispum
Amazingly versatile in the kitchen, it complements almost every dish;
Plain - Lovely flavour & leafy habit.
Italian - This flat leaved parsley is a must for Mediterranean cooking. It is more flavourful than curled leaf varieties.
Forest Green – Standard curled parsley; Good flavour. Used in a wide variety of recipes.
Fine Moss Curled - Bright green, deeply cut and finely divided leaves.
PATCHOULI – Pogostemom patchouli
NOT FOR CULINARY PURPOSES; Leaves are excellent in sachets & potpourris; Adds scent to table arrangements.
PENNYROYAL – Menthe pulegium
Strong minty aroma. Previously used to flavour puddings and sauces. Makes a grand tea which is used to ease headache. Has insect repelling properties.
ROSEMARY – Rosmarinus officinalis
One of the most fragrant of herbs. A little fresh rosemary is interesting in dumplings, biscuits, preserves, and poultry. Notable with lamb and pork. Excellent for shampoos, hair & skin rinses; Attractive needle-like leaves.
ARP (Upright) - Goes great with poultry, lamb, pork, and is terrific in vinegars. Foliage is grey-green with good aroma.
Prostratus - Fine trailing variety; same wonderful flavour.
SAGE – Salvia officinalis
Used in sausages, pork and veal dishes, as well as in poultry stuffings.
Garden – Main culinary varieties especially for flavouring rich meats like pork or duck; also in sausages, omelettes, cheese and bean dishes. Makes a great tea which is also valuable for sore throats.
Purple - Aromatic purple foliage. Used in stuffings, sausages, omelettes, soups, stews.
Tri-Colour – Aromatic foliage with white and pink streaks. Mild flavour.
Golden - Leaves are a chartreuse-yellow enhanced by dark green splashes. Delicate flavour.
SUMMER SAVORY – Satureja hortensis
Wonderful all-round savoury herb. Used in teas, herb butter, flavoured vinegars, soups, and poultry stuffings.
SORREL – Rumex acetosa
Preferred by gourmets for its extra zest in mixed salads and sauces or use as a seasoning for seafood, rice and potatoes. Rich in vitamin C and folic acid.
Garden - Used in the much esteemed cream of sorrel soup. Large, succulent, slightly acid-tasting leaves give zest to salads.
Sheep - Traditionally used for fevers, inflammation, and cancer. Although leaves are small and slow to gather, they are delicious to eat.
STEVIA – Stevia rebaudiana
Remarkable sugar substitute! Contains stevioside – when dried the leaves of this 'Sweet Herb' are 20-30 times sweeter than cane sugar, yet considered safe for sugar restricted diets. Stevia is used extensively in Japan to sweeten sugar-free products, as a safe alternative to artificial sweeteners. Leaf powder can be used in baked goods, preserves, drinks, desserts, etc. Whole leaves can be used in salads and in cooking. Has a pleasant flavour of its own that never dominates or overwhelms that to which it is added.
TARRAGON – French - Artemisia dracunculus sativa
The true tarragon, which does not propagate by seeds. Dark green, shiny leaves posses distinctive flavour esp. for fish, soups, poultry or eggs. Makes an excellent vinegar.
THYME – Thymus vulgaris
Leaves are used fresh or dried to season meats, vegetables, soups & sauces. An old favourite for stews stuffings etc., mixed herbs and bouquet garni. Stimulates the appetite and helps the digestion of fatty foods.