We have a unique gourmet selection for you – from unusual flavours and products to country favourites – all made in Canada with only natural ingredients. Come try them – you'll find them hard to resist!
Coming May 2006!! – Watch this space for news on our ALL NEW delectable gourmet treats – healthy & interesting Garlic products, savoury peppery jellies, natural salsas, dry herb mixtures including potato toppers, maple syrup and salad dressings – so much more in our store…
We feature tasty edible flower jellies and spreads such as fabulous: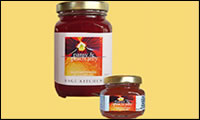 Nasturtium & Jalapeño (spicy!) - a delicious addition to lamb, pork, poultry, grilled salmon, veggie stir fry's and enhances baked brie and other fine cheeses.
Lavender - serve with fresh strawberries and fine chocolates. Outstanding with pates, roasted duck, pork, bison, or lamb. Excellent with goat cheese or home baked treats.
Rose flavours - wonderful glaze for pork, or baked squash, complement a creamy cheese & are excellent on muffins, croissants, or fresh baked bread. Accents soft white cheeses, rice & chicken. Ideal for home baking (pastries, cookies, cakes) or spread over fresh bread & croissants or add to your yogurt.
All are wonderful on crackers, toast, fabulous on cheese, and I have a customer who raves about the Nasturtium and Jalapeño with chicken!
These 'floral fruit spreads' are also available in wooden gift crates of 'taster' jars – so you can try one of each!
Or try our scrumptious Arome spreads in several amazing flavours.
Try Wild Rose on a toasted bagel with cream cheese, a warm croissant with Violet & Lavender, toasted breads with Calendula, Orange & Date.
See the recipe section for more ideas!
We also have unusual 'tea jellies' – Earl Grey, Chai, and Green tea flavours. They have been described as 'tea in a jar' or even like spreading coca-cola!
We also stock the best of Prairie Berries' jams including great favourite flavours such as Saskatoon, Blackcurrant, & Raspberry. The blackcurrant is super low-sugar, tart in flavour and fabulous on ice-cream as well as toast!
Both Arome & Prairie Berries have wonderful natural fruit syrups – perfect for waffles, ice-cream or pancakes. Try flavours such as: Rose & Raspberry, Saskatoon and Chokecherry.
We have several flavours of lovely herbal vinegars in signature bottles. Use them as delightful additions to salad dressings, in marinades, and in savoury sauces. Basil vinegar goes well with salads that have tomatoes, peppers, or zucchini. Rosemary and Thyme go well with potato, meat and vegetable salads, and sage is wonderful with any salad that has poultry or veggies. See the recipe section for more ideas!
To enhance your cooking with herbs we have flavourful culinary Lavender, Herbs De Provence sachets, and a lavender gift card with sample herbs and recipes from Company's Coming.
Organic Culinary Lavender turns an ordinary dish into something a little more exotic. This herb is similar to rosemary but can also be used for sweet dishes. Try it with lamb or fish: in salads, savory tarts and savory breads, or add two table spoons to your favorite shortbread or sugar cookie recipe.
We have 4 varieties of easy-to-use dried DIP mixtures (dill, spinach, chive & garlic, and spicy Mexican). Not only they are quick, they're super for tacos or veggies.
To boost your weekend mornings and make your life easier, we have all-natural pancake mixes in great cranberry or blueberry flavours, a cranberry scone mix, and for those who need gluten-free products a Spelt Muffin Mix. All are housed in traditional old-style brown paper bags with full instructions on use.
And NEW! From the family-owned Milsean shop in British Columbia –
Fair Trade Organic Hot Chocolate – amazing: it's like drinking a dark chocolate bar! Made from the purest of ingredients and wonderful combined with hot milk or soy or rice. In keepsake tins.
And – for 2006 - Birthday cake in a Jar! Comes with a candle & icing - So easy – a cute gift or a special treat for yourself: single servings that you can heat in the microwave, or just grab a spoon and dig in.
Plus Traditional 'Old-world' Demerara Sauces – Caramel or Rich Chocolate - yummy. Again, just open the lid, microwave and serve over puddings, the cake, ice-cream, fruit desserts, pancakes, on a latte – even straight from the jar.
For sweet lovers we have some bite-sized delicious 1 oz. chocolate toffee butter crunch bars.

We even have pop-in-the-ear popping corn! What fun!